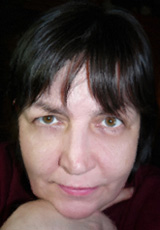 My name is Dorothea Forster, I'm actually a hobby artist with a little professional background. In my youth I learned scene painter. I gave it up when I met my husband and learned nurse. In this profession I'm still working.
How did you begin with Digital Art?
*LOL* It was a act of self – defense: With three children you have to much unwanted helpers when you paint with oil – so I was very happy when I discovered the posibility of painting with the PC. I started with Bryce and Poser, jumped than to Vue d'esprit. I also do 3D modeling of plants with x-frog.
In spring of last year, when I was very upset of the bugginess of the latest Vue version I discovered Gertrudis pro. After a trial of three days I bought it spontaneously. Since this time I use Gertrudis for all my images. Really overwhelmed I'm with the upcoming Gertrudis MX. It is a wonderful program with enormous possibilities. I tested nearly all other painting programs and no other software – even the high prized ones – I couldn't achieve the results I get with Gertrudis MX.
In the meantime my 3D programs I use only for creating scenes I paint with Gertrudis MX.